Lead Ingots
Lead has been part of the human civilization for thousands of years. Nowadays it is the fourth most used non ferrous metal, because of its massive use both in the developed and developing economies.
The world dependence on lead is basically due to it's use in car batteries manufacturing. Almost 85% of total refined lead production from different parts of the world is used by the lead acid battery manufacturers.
The future of lead is inevitably linked to the lead-acid battery. Looking at the current technology, substitution of lead in batteries looks difficult, because of its reliability, performance and economy, and also because of the highly efficient lead waste recycling mechanisms.
Our Infrastructure
Suryadeep International is a leading supplier of lead ingots and has set up a production facility in Lagos, Nigeria, and Addis Ababa, Ethiopia, to cater to the rising demand.
The lead ingot manufacturing units at Lagos and Adis Ababa comprise of Battery Breaking, Rotary Furnaces, Blast Furnace, and Refining Pots backed up with material handling equipments viz. Mobile Hydra Crane, EOT Cranes of 3 MT capacity, Fork Lifts etc. At these production facilities, remelted lead ingots are produced from Raw Lead / Battery Scraps / Lead Scraps and other scraps of Lead.
Sourcing
We collect battery waste from different parts of the country where we operate and also import lead ores and other lead bearing scrap. Lead acid batteries either start or power cars, trucks, buses, boats, trains, rapid mass-transit systems, recreational vehicles and electric wheelchairs all over the globe. This means the scrap is easily available.
All the components of the modern lead acid battery are recyclable, and from an Industry perspective lead-acid batteries are an environmental success story. It is in everybody's interest to recycle as much scrap material as possible, especially lead acid batteries, because if they are not recycled, the materials in the battery pose a serious environmental problem and a threat to human health.
Lead Acid Batteries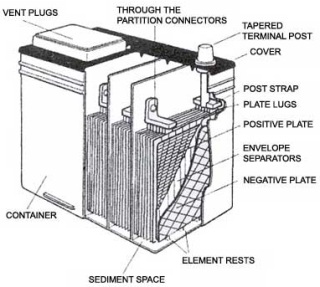 The modern lead acid battery is made up of :
A resilient plastic container which is usually polyethylene, but increasingly is made from alternative co-polymers or reinforced, but the case material can also be metallic or a synthetic rubber.
Positive and negative internal lead plates. The positive electrode (cathode) typically consists of pure lead dioxide supported on a metallic grid, whereas the negative electrode (anode) consists of a grid of metallic lead alloy containing various elemental additives that includes one or more of the following and sometimes others not mentioned, antimony, calcium, arsenic, copper, tin, strontium, aluminum, selenium and more recently bismuth and silver. These alloying elements are used to change grid strength, corrosion resistance, reduce over-potential or maintenance, and internal resistance.
Porous synthetic plate separators are increasingly made from rib-reinforced polyethylene, but are also available in PVC and fiber glass. The plates are immersed in a liquid electrolyte consisting of 35% sulfuric acid and 65% water. It is the electrolyte that facilitates the chemical reactions that enable the storage and discharge of electrical energy and permit the passage of electrons that provide the current flow.
The positive and negative lead terminals used to connect the battery to the car and pass the current from the individual cells via a series of connecting lugs and bridges.
Production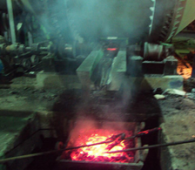 We break old used battery in our own yard and re-melt the same in the Blast Furnace / Rotary Furnace to produce Remelted Lead Ingot, which contains 97% – 98.50% of Pure Lead and rest impurity elements (Total 2-3%) as Antimony, Tin, Arsenic, Iron, Bismuth, Copper etc.
This is commercially called 'Raw Lead or Lead Bullion', which is further processed to Pure Lead (99.97% purity) and/ or Specific Lead Alloys. We offer both Raw Lead Bullion as well as Refined Lead ingots (99.97% Pb Min).
Further Re-melted Lead ingot is purified in the refining kettle to produce 99.97% of Pure Lead. Our refined lead has a minimum purity level of 99.97% and achieves a purity level of 99.98% in most cases.
Quality Assurance
We follow best practices for ensuring quality of the end product. Some of the established procedures include:
In-house team of lab technicians and chemists who run the quality assurance process.
The team is equipped with latest SPECTROMAXx F version Analytical Instrument of Germany make & NITON XLT 792 KMY HAND HELD ANALYZER
The SPECTROMAXx enables our chemists and Lab Technicians the accurate analysis of Lead and Aluminum Alloys. The instruments takes advantage of modern CCD Technology combined with the latest generation of readout electronics.
Percentage of lead and other elements in the final product is carefully monitored to adhere to the committed percentage levels. A modern laboratory has been set up for the same.
Our Motto is to produce quality products to the satisfaction of customers in the Global Market and compete with big giants of the field. To this effect, we are in the process of getting certified from different recognized quality process management bodies.
Environment
Local exhaust ventilation is provided for lead fumes and dust emissions at the lead and slag tap, launders, moulds, ladles, and refining kettles. This exhaust is taken to bag-house. Thus the system is Eco-friendly in all aspects. The company follows and betters essential environmental and occupational health regulations.