Aluminum Alloy Ingot
Aluminum Alloy Ingots are consumed in the Automobile sector to a great extent, for manufacturing pressure die casting components. With the growth in automobile and ancillary industries, the demand for Aluminium Alloy Ingots has risen in markets across the world.
Our Infrastructure
Suryadeep International has ventured into Alloy Ingots production which can meet the stringent national and international standards like IS/BS/DIN/ASTM or as per customer's specification. The company employs advanced technology for scrap melting and hence is in a position to honor its commitment to its customers with reference to high quality of product, timely delivery and customer satisfaction.
Our present production capacity is approx 1,500 tons Aluminum Alloy per month.
Sourcing
Following steps are taken for sourcing scrap:
Attachment like iron (Fe) is restricted to 2-2.5%. Along with minimum content of Zn and Mg.
Scrap is sourced from reliable dealer with quality guarantee
Spot checks of scrap by quality assurance team.
Segregation and sorting of scrap.
Testing of chemical components
Production
Melting of material in Skelner Furnace – Casting of Ingots on Machine Conveyor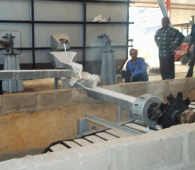 Quality Assurance
We follow best practices for ensuring quality of the end product. Some of the established procedures include:
In-house team of lab technicians and chemists who run the quality assurance process.
The team is equipped with latest SPECTROMAXx F version Analytical Instrument of Germany make & NITON XLT 792 KMY HAND HELD ANALYZER
The SPECTROMAXx enables our chemists and Lab Technicians the accurate analysis of Lead and Aluminum Alloys. The instruments takes advantage of modern CCD Technology combined with the latest generation of readout electronics.
Percentage of lead and other elements in the final product is carefully monitored to adhere to the committed percentage levels. A modern laboratory has been set up for the same.
Our Motto is to produce quality products to the satisfaction of customers in the Global Market and compete with big giants of the field. To this effect, we are in the process of getting certified from different recognized quality process management bodies.
Packing and Storing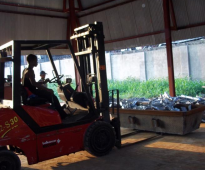 We have used a healthy mix of automation and manual labor to ensure minimal wastage and proper packaging and storing. Fork lifts are used both for handling scrap and finished products. The Ingots are marked, packaged and stored in clean and safe company warehouses.

Clients
We export our products to various countries in Europe and Asia and our product Aluminum Alloys Ingots, ADC -12, LM 24 and other similar grades are some of the key products and are highly in demand. Major die cast manufacturers in Japan and India are amongst our clients. For a complete list of our clients do get in touch with us. Contact.